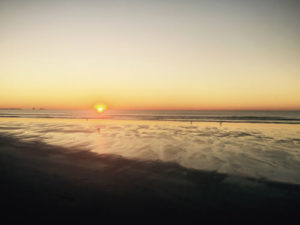 Many people find me because of a chronic or acute physical condition. But some just want to peel away a layer of anxiety for mental clarity. Some conditions are trauma related. I also treat a number of moms-to-be. Some sessions can involve a bit of work to compliment physical therapy or to ease cancer complications. All the work I do is complimentary to almost all other treatments you may be receiving. Please call me (361) 945-1465 for more specific information.
What is a typical session?
Unless you request the session to be limited to a specific modality, I tend to use all the methods available to me to help you get the best results out of our time together. This may include direction-of-ease tissue releases, craniosacral therapy, visceral manipulation, stretching, qigong energy healing, neuromuscular therapy, massage and other techniques. During the first session, we will review the intake form together as well as your goal for the session.
Physical conditions: If you are in a great deal of pain, the treatments can be as often as every day until you are much better. Less urgent conditions can be treated less frequently. Many time the physical conditions will benefit from your mindful participation to notice the messages your body is sending and the opportunity to react in a different manner.
Psychological issues: Many seemingly psychological issues have a physical point of reference. For example, some types of depression are caused by physical impact to the spine or head. PTSD and other trauma also seems to have a point point of stickiness in the tissue. It's almost as if the thought have attached or frozen to the tissue. When activated, they can release and the images can get out of your head.
I cannot guarantee outcomes, but 99% of my clients receive substantial benefits from these sessions and usually more quickly than expected. If you are not happy with the outcome of your session, there is never a charge.
How many sessions will it take for me to get better?
Many times as little as one treatment is enough. But it takes an average of 3 to 6 sessions to achieve substantial effects in the vast range of different circumstances listed. The time between your treatments usually increases as the program progresses and your body begins to repair itself.
How much time should I schedule?
If you are just hear for one day, and have a number of conditions to address, please schedule adequate time. For instance, if you have a torn rotator cuff injury, 50 minutes should be enough to make a huge difference. If you have rheumatoid arthritis, sciatica and knee pain, please plan on an 80 to 110 minute session.
What should I wear?
Comfortable loose fitting clothes. You can remain dressed for all the session types except if you request a massage.
What is Direction of Ease Tissue Release?
This amazingly effective method has evolved out of my work with CST and studies with Orthobionomy. The tissues usually have so much tension on them that the disfunction is embedded. I discovered that when I move the joint, appendage or tissue in the direction that it goes most easily, the tissue begins to release and the disfunction or injury unwinds as if it was never there.
What is Craniosacral Therapy?
Craniosacral Therapy use a light touch to test for and release restrictions in the craniosacral system, which includes the bony structure and tissues that encompasses the brain, spinal cord and extending nervous system throughout the body. Mobility and communication between all body systems is the key to overall health.
What is Somato-Emotional Release?
Many times a pain or injury is just a message. It can be that an emotion got stuck in the tissue from a traumatic event. In a somato session, I listen to the tissue and help release the issue. For instance, I once had a client with chronic back pain and a rib that kept becoming displaced. As my hands engaged a certain point in the tissue, she remembered the issue associated with the original event. It caused some emotion that lasted about 2 minutes. Then 20 years of pain and monthly doctor visits resolved in one session.
What is Visceral Manipulation Therapy?
Visceral maculation therapy is based on a specific soft touch to restore normal mobility, tone and motion of the organs and their connective tissues. These gentle manipulations can potentially improve the ability of the individual organs thad the structural integrity of the entire body. Bones and tissues turn in towards visceral restrictions causing problem in other areas. Restoring balance can relieve many issues. This was the case with one client that knee pain that originated with his stomach. Part of the stomach was trapped above the diaphragm as in a hiatal hernia. The client had indigestion. In this case the hip rotated in towards the restriction causing a dysfunction that presented itself in the knee as pain. As the diaphragm released and the stomach returned to it's proper position and motility, both the hip restriction and the knee pain resolved.
What is Neuromuscular Therapy?
Neuromuscular Therapy is a hands-on, deep tissue muscle therapy for relieving pain, stiffness and inflammation from soft tissue (muscles and tendons). The pressure is applied to the muscle's trigger point. Then the muscle is free to accept fresh blood, release toxins and start the healing process.
What is Qigong Healing?
Qigong Healing is energy work. This is most often how I work with people after they leave the island. It is very effective. I just notice the energetic blockages and help your body move them out. This may also include a meditation or mindfulness exercise and health coaching. This can be in person or at a distance.
Cancellation Policy
Please let me know as soon as possible if you have a change. Many times I turn away as many appointments as I take. But I know that it's the beach. I realize that sometimes you get sunburned or things change. At this time there is no charge for a change.