$85/125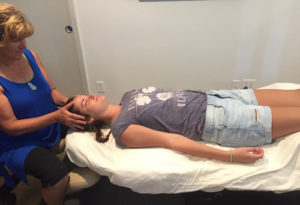 CranioSacral Therapy is a gentle hands on therapy. It's the most effective therapy. All my sessions include some CST. It is a light touch whole body method of balancing the central nervous system. In CST, I listen with my hands for restrictions in the connective tissues surrounding the brain, spinal column and the tissues innervated by the nervous system.
Restrictions and adhesions cause the affected tissue and organs to receive less circulation and nourishment. By noticing and releasing, the body can support those areas and restore health and balance to the whole system – reducing pain and stress, strengthening resistance to disease and enhancing health and well being.
Tension patterns form from physical and mental stresses. This may start at the head (as with an injury) or on the spinal column (postural and functional distortions) and work its way within the connective tissue. Imagine if you had a thorn in your side that you couldn't remove. Your body would form a position so the thorn wouldn't hurt. After some time, this seems normal. But eventually pain develops to let you know there is something amiss.
With a CranioSacral Therapy session, it feels like the deepest relaxation and rest. You may notice warmth in the tissue around my hands. You may notice softening and opening of the tissues as everything aligns and the thorns release. It can be a bliss out session with deep experience of relaxation in areas you had no idea held tension. It is by far the most effective therapy for resolving physical and even emotional issues. It allows the body to self-correct, heal and the to relax.
Because it's so gentle, CranioSacral Therapy can be effective for all ages. This therapy is done fully clothed. Many clients feel warmth in the tissue between my hands as the tissues makes changes. Emotional releases are not uncommon. Locked feelings and injuries go together and can just go away.
CranioSacral Therapy helps relieve a full spectrum of pain, illness & dysfunction, including:
Osteoporosis
Arthritis
Autoimmune Diseases
Migraines & headaches
Chronic Neck & Back Pain
Stress & Tension related disorders
Motor-Coordination Impairments
Infant and Childhood Disorders
Brain & Spinal Cord Injuries
Chronic Fatigue
Fibromyalgia
TMJ Syndrome
Scoliosis
Central Nervous System Disorders
Learning Disabilities
ADD/ADHD
Post Traumatic Stress Disorder
Orthopedic Problems
Many other conditions