Orthopedic & Deep Tissue Massage
$85/125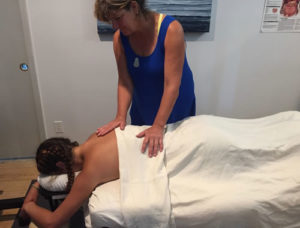 The pressure is just right. It may involve stretches and movement in order to addresses your special issues: injuries, acute and chronic pain and specific muscle/tendon problems. The massage focuses on site specific rehabilitation of muscles and connective tissues. It uses precision to address the muscle pain. It may include a postural analysis, neuromuscular therapy, myofascial release, stretches, muscle energy work and specific patient home care. Just the right things to restore your body to balance.
Some of the release of the muscles is achieved through trigger point therapy, slow compression and lengthening procedures. Shortened muscles can cause a decrease in blood circulation and inhibit lymph flow. Waste products stored in muscles can cause the muscles to become inflamed and irritating to nerve fibers thus causing pain. The internal toxicity to the immune system can cause disease. Muscle fibers that cannot lengthen are likely to cause injury. They tear at the musculotendinous joint or where the tendons blend with the periosteum of the bone. Increasing circulation through massage helps the system to carry away waste and bring oxygen to the tissues.
Pregnancy Massage
$85 per 50 minutes
Pregnancy Massage is a form of bodywork designed specifically for pregnant women. Pregnancy is a time in which a woman's body endures tremendous stress due to dramatic physical, mental, and emotional changes. Using various techniques specifically for the new mother, Pregnancy Massage helps alleviate discomforts experienced throughout the pregnancy. The benefits are profound, including emotional support, the reduction of joint pain due to extra weight and postural imbalance, improved breathing and relaxation, and relief from uncomfortable digestive issues.
Hot Stone Therapy
$85 per 50 minutes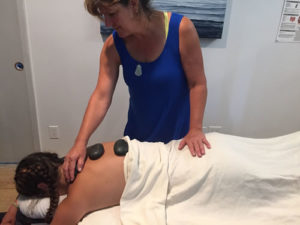 Stone Therapy is a type of bodywork that uses deep penetrating heat and from special volcanic river rocks.  The directed heat is instantly soothing.
A hot stone massage delivers a profound expansion and contraction inside your circulatory system, improving the function of your lymphatic and immune systems, and enhancing your body's self-healing mechanisms.  This style of bodywork takes you into deep states of relaxation, releasing stress and anxiety, detoxifying the body, and balancing your nervous system.