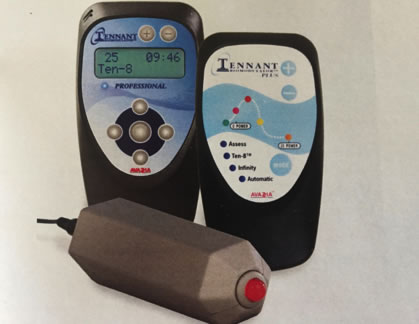 $85/125
I've studied the best technology as well as the hands on therapies to help you be well and pain free. The Tennant Biomodulator is hands down the best device you can buy or use. It is amazing! It is effective for the relief and management of chronic, intractable pain. It's an advanced microcurrent electrical neuromuscular stimulator (MENS) designed to increase the body's own natural healing process. It restores cellular metabolic activity in the area of treatment.
Reduction of inflammation and pain results from the increased transport of nutrients to and wastes from the cells. The micro current technology works with tiny currents, closer to the type and amount that naturally occur in the body. It whispers at the tissue and speeds healing. I owned one for years and believe that everyone should have one!
I use this in most of my sessions. I've found it quickly takes the edge off migraines, neck, back pain. For more information, contact Dr. Tennant's office or order his books from the resources section.